Gain biological insight by adding the SomaScan® Assay to your mass spectrometry research
Analyze 7,000 proteins at once with industry-leading reproducibility.
Adding the SomaScan Assay to mass spectrometry allows for deeper molecular insights, rapidly and consistently
The SomaScan Assay is based on SOMAmer® (Slow Off-Rate Modified Aptamers) reagents, which are aptamers that are custom engineered to have enhanced shape complementarity to their targets, as well as slow off rates for longer target binding. A universal polyanionic competitor further enhances specificity to the target protein.
The current menu offers 7,000 unique proteins that can be measured simultaneously from 55 µL of sample. This platform also offers excellent reproducibility with coefficients of variation (CV) around 5% — pairing it with complementary technologies, such as mass spectrometry, can enhance your ability to discover new protein biomarkers and targets.
The SomaScan platform is a complement to mass spectrometry, as demonstrated in multiple disease areas and research settings
In patients with high-grade serous ovarian carcinoma, researchers used the SomaScan Assay and mass spectrometry to discover protein signatures classifying long- or short-term relapse-free survivors (PMID 31588238)
Researchers used the SomaScan platform and mass spectrometry to help identify the role of molecular mechanisms in different pathophysiological processes in COVID-19, a complex, heterogeneous condition. These insights may help stratify patients in clinical trials and in the clinic for targeted treatment (PMID 33724185)
In a study combining the SomaScan Assay with mass spectrometry analysis, research identified aspirin-targeted proteins that are potentially associated with the risk of colorectal cancer (PMID 33318029)
The SomaScan Assay offers numerous benefits that can help overcome some of the challenges of mass spectrometry
High throughput, exceptional reproducibility with coefficients of variation around 5%, and enhanced sensitivity for clinically relevant proteins of interest make the SomaScan Assay a unique investigative tool
The SomaScan Assay can be used to measure proteins in low and high abundance and generate multiple datasets from the same small sample—which can significantly shorten lead time
Benefits of the SomaScan Assay
The SomaScan Assay utilizes small sample volumes and delivers high-quality, actionable data to accelerate your research.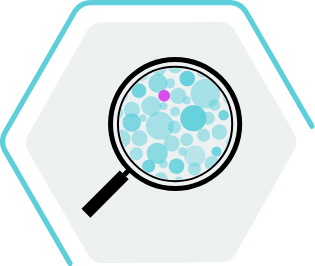 Sensitive detection
The SomaScan Assay can measure proteins with low limits of detection (10-log range as low as 125 fM).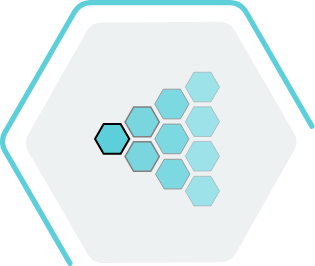 Reproducible
(~5% CV)
Obtain consistent and reproducible inter- and intra- assay results for data analysis and comparison.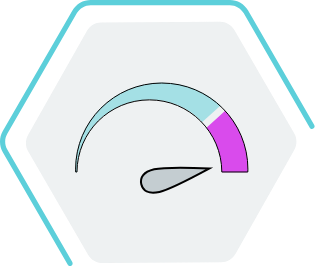 High throughput
Screen up to 7,000 proteins per sample and conduct high-throughput analysis of >1,000 samples per day.
The SomaScan portfolio offers multiple ways to
complement your mass spectrometry research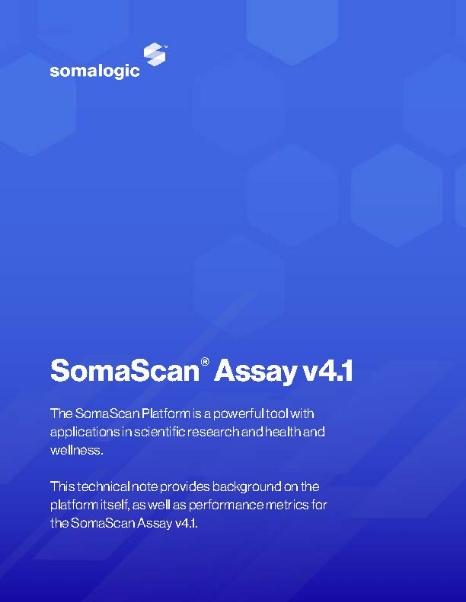 SomaScan Assay 4.1 Tech Note
The SomaScan Platform is a powerful tool with applications in scientific research and health and wellness.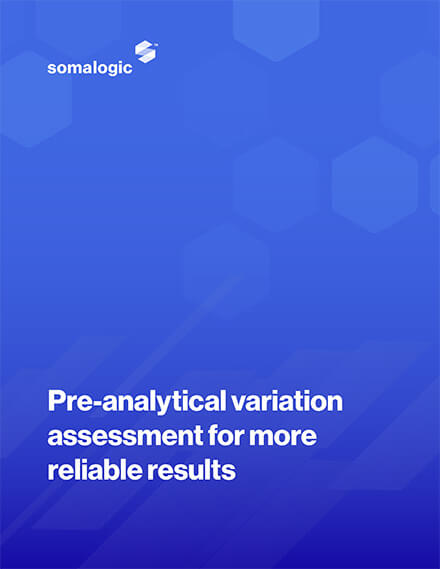 Pre-Analytical Variation Tech Note
In biomarker discovery, it is critical to assess any pre-analytical variation in order to avoid artificial bias in the intended measurements.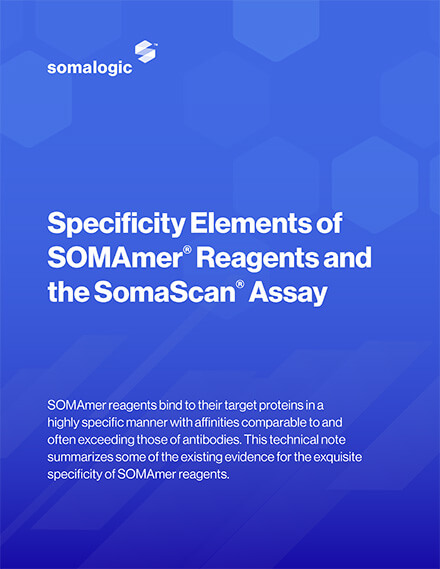 Elements of Specificity Tech Note
Characterization of the binding specificity of SOMAmer reagents used in the SomaScan Assay
See relevant publications in our interactive viewer