Quality and Regulatory
Our Quality Management System enables a Total Quality Management approach and culture.
Ensuring safety, efficacy, and quality
SomaLogic's pioneering SomaScan® Platform has transformed life sciences research by providing a single platform for discovery, validation, and development.
SomaScan Assay – The SomaScan Assay enables an industry-leading 11,000 protein measurements with only 55 µL of plasma or serum. Our proprietary technology measures proteins with high specificity, high throughput, and high reproducibility, which enables the possibility of faster, more precise discoveries. The assay is powered by unique Slow Off-rate Modified Aptamers (called SOMAmer® Reagents), which are synthetic, single-stranded DNA sequences that bind tightly to a specific protein target.
SomaSignal® Tests – Our portfolio of SomaSignal Tests combines the power of machine learning with bioinformatics algorithms based on a massive database of more than 550,000 protein samples collected to date worldwide. These tests provide additional insight into the current health status of patients and the future risk of conditions and diseases, such as heart failure, NASH, diabetes, chronic kidney disease, COPD, and more.
SomaScan Panels – Custom and scientist-curated panels are available for researchers who need a more targeted approach – with the option to expand analysis later and run the assay on the entire menu of 7,000 analytes.
The SomaScan Assay is currently available as a service through our CAP-accredited and CLIA-certified lab, or it can be added onsite at a core facility through the SomaLogic Authorized Site program. SomaSignal Tests are currently available only as a service through our lab.
Hierarchy of Quality Management System documented information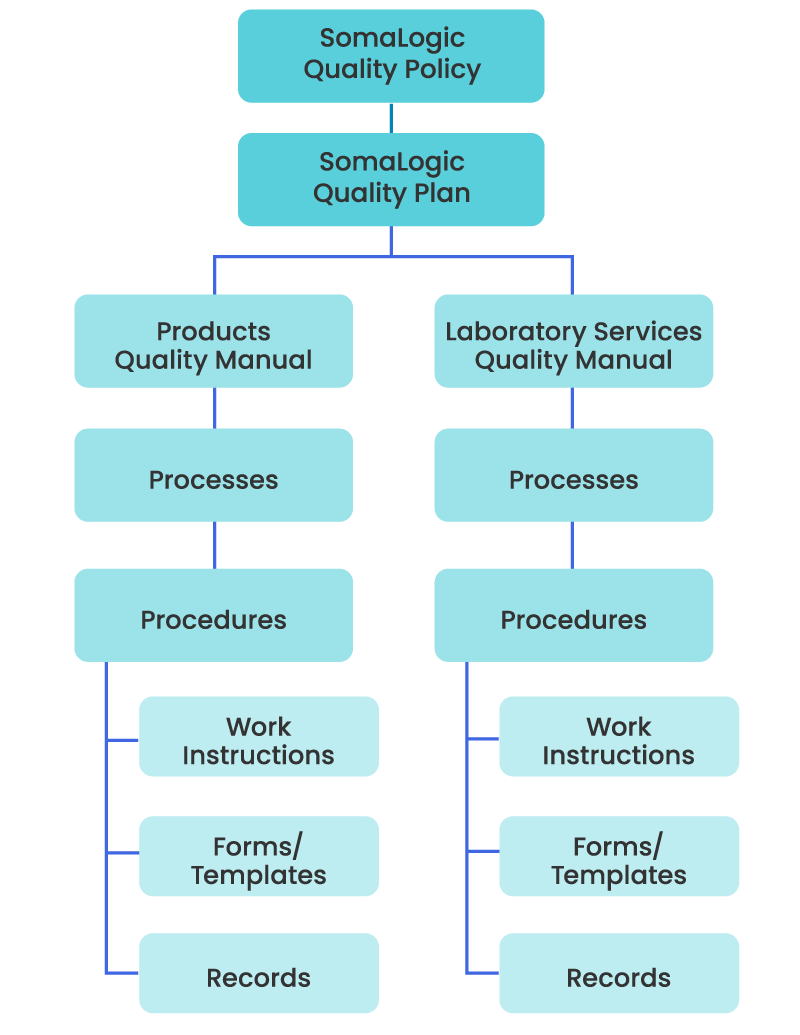 SomaLogic has established, documented, and implemented a Quality Management System (QMS) in accordance with the appropriate requirements from regulations and standards.
Documented Quality Management System (QMS)

Establishing a comprehensive QMS that includes written policies, procedures, and guidelines is fundamental for the SomaScan Platform. The processes cover all aspects of quality, including product development, manufacturing, testing, and distribution. They also comply with relevant regulatory and quality standards including Good Clinical Practices (GCP), Good Laboratory Practices (GLP), ISO 15189, and ISO 9001.

Risk Management

SomaLogic's quality and regulatory practices identify, assess, and mitigate risks associated with product quality. Our process includes conducting risk assessments, developing risk mitigation plans, and monitoring risk mitigation strategies throughout the product's life cycle.

Document Control

Document control is a critical aspect of SomaLogic's quality management, as it ensures that all relevant documents, including policies, procedures, work instructions, and specifications are current, accurate, and accessible to authorized personnel. Proper document control practices help ensure we maintain version control, traceability, and consistency in operations.

Training and Competency

SomaLogic invests in training and competency programs to ensure employees have the necessary skills, knowledge, and expertise to perform their roles effectively. Training covers topics such as quality management principles, regulatory requirements, and specific job-related skills.

Continuous Improvement

SomaLogic has adopted a culture of continuous improvement to drive innovation, optimize processes, and enhance quality. Practices such as root cause analysis, corrective and preventive actions, and process monitoring help identify and address quality issues and drive ongoing improvement.