Empowering transformative research and diagnostics with the power of proteomics
SomaLogic has revolutionized aptamer-based proteomics.
Our pioneering platform provides more coverage of the proteome than any other technology. With more coverage comes better insights, smarter decisions, improved outcomes, better healthcare. SomaLogic is an industry leader in proteomics, adding new analytes and developing innovative ways to advance your work every single day.
Researchers
Healthcare Practitioners
Data and Analysis
Researchers
Discover how the world's leading life science and pharmaceutical research organizations are transforming their discovery and validation pipelines with our groundbreaking proteomic technologies.
Healthcare Practitioners
Real-time health information that enables health systems to make better decisions and improve outcomes across their populations.
Data and Analysis
Analyze and visualize all your studies in one clear, concise, and convenient view on the SomaLogic Life Sciences Portal. Combine study tracking with the power of statistical analysis and data visualization, and access our full menu of analytes.
Industry-leading means…
We built the first and only platform that can simultaneously measure 7,000 proteins across a wide range of concentrations. Now we're translating those measurements into key clinical indicators of health status and risk.
Largest menu
7,000 proteins per sample
Top tier facilities
CLIA-licensed ultra high-throughput lab
Highly translational
Proteomics and clinical metrics from 55 μL of blood
Well-established
20 years of innovation, >500 patents

See you at HUPO World Congress!
Join us at our Lunch Seminar (ISS13)
Tuesday, September 19  |  13:15-14:15 KST
Room 203-204, BEXCO Convention Hall
Disease Risk Visualization by SomaScan Assay
We're honored to host Iwao Waga, MBA, PhD, and CTO at Tokyo-based Fones Life (a SomaLogic Authorized Site), for a presentation on using the high-plex SomaScan Assay as a visualization tool for assessing disease risk.
See more data at our poster session. And stop by Booth 405 to talk to our team about your protein biomarker research. Our agenda is here.
For insights across multiple diseases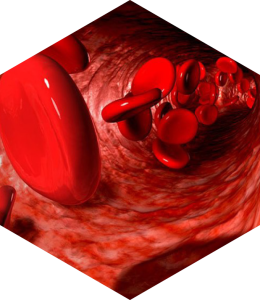 Deepen your mass spec analysis by separating clinical signals from a sea of noise
Antoine Dufour, PhD, explains how the 7,000-plex menu and femtomolar sensitivity of the SomaScan Assay allows his team to differentiate both high- and low-abundant proteins from other indicators in complex sample types, like blood or tears.
"As an initial screen, it's a game-changer in terms of numbers."
Antoine Dufour, PhD, University of Calgary