Accelerate clinical trials for COVID-19 drug candidates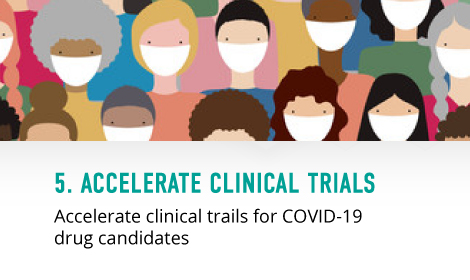 Identify proteins related to severity/prognosis
Monitor those proteins in clinical trials for new drugs
Provide early indication of drug efficacy
Demonstrate mechanistic proof-of-concept
Determine exposure response for dose setting
Identify undesirable off-target effects
The SomaScan® Assay has been repeatedly used to identify or monitor biomarkers for drug response
Using the SomaScan Assay to determine what went wrong with the promising drug torcetrapib
Researchers from Pfizer, the University of California, San Francisco, and the Karolinska Institute used the SomaScan Assay to measure the levels of 1129 proteins in samples from ILLUMINATE, Pfizer's phase 3 clinical trial of torcetrapib, a drug candidate for treating heart disease. Torcetrapib raises levels of 'good' cholesterol and lowers levels of 'bad' cholesterol and was expected to be a blockbuster drug that reduced the risk of serious cardiovascular events such as heart failure and stroke. Instead, an increase in deaths and heart problems was seen in trial subjects taking torcetrapib, and ILLUMINATE was abruptly terminated. This happened in 2006 after Pfizer had invested 15 years and nearly a billion dollars in torcetrapib development.
The new study used a previously validated nine-protein cardiovascular risk score to successfully predict the harmful effects of torcetrapib after three months of treatment—much earlier than the point at which ILLUMINATE was stopped (approximately 18 months). The work also provides new insights into how torcetrapib acts in the body and possible clues to its toxicity, including widespread and unanticipated effects on immunity and inflammation. This article thus demonstrates how monitoring blood-based protein changes in response to experimental therapies could one day improve the efficiency and safety of drug development.
Monitoring important biomarkers in a clinical trial for muscular dystrophy
In this article, a team led by researchers at the University of Pittsburgh and ReveroGen Biopharma describes the first-in-patient study of vamorolone, a first-in-class steroidal drug for treatment of Duchenne muscular dystrophy (DMD). DMD is a rare muscle wasting disease that affects primarily young boys. The DMD standard of care is treatment with glucocorticoids, which help slow disease progression but have severe side effects. In a multiple-ascending dose study, vamorolone was safe and well-tolerated in boys with DMD. The SomaScan Assay was used to compare protein levels at baseline and after two weeks of daily vamorolone treatment at four different dose levels. Vamorolone treatment led to decreased serum creatine kinase, a marker of muscle disease activity as well as decreases in levels of inflammatory proteins. These results suggest that vamorolone has a beneficial effect and an anti-inflammatory mechanism of action.
Identifying biomarkers of corticosteroid efficacy and side effects
Corticosteroids are used effectively across a large number of diseases and conditions in which inflammation plays at least a partial role. But regular, repeated use can bring along a host of side effects, many of which can be worse than the initial disease or condition. In one particular disease, Duchenne muscular dystrophy (DMD), corticosteroids are a current standard of care, but efficacy gives way to safety issues over time, varying by patient. In this article, a multicenter group of researchers use the SomaScan Assay to identify protein biomarkers of corticosteroid efficacy and side effects, with the goal of developing a diagnostic tool to optimize the use of these powerful treatments in DMD patients—and young patients with other diseases—over time.
Measuring protein levels in response to two different inflammatory bowel disease treatments
Inflammatory bowel disease (IBD) is a chronic condition where the body's immune system attacks its own digestive tract. The goal of most IBD treatments is to achieve remission, however there is increasing evidence that alleviating the symptoms does not ultimately improve outcomes. Repeated colonoscopy can be used to monitor patients' response to IBD therapies, but the technique is costly, invasive and can be risky, particularly for children. In order to find pharmacodynamic biomarkers of IBD, researchers at the Children's National Health Center in Washington, D.C. ran the SomaScan Assay on pediatric serum samples obtained before and after treatment with a corticosteroid (prednisone) or a biologic (infliximab) anti-inflammatory drug. They identified 18 proteins and 3 miRNAs whose levels changed in a similar manner (either increased or decreased) for both drugs. Eight of the markers that decreased are associated with inflammation, whereas many that increased are associated with resolving inflammation and tissue damage. With further validation, these protein biomarkers could be used to track treatment, optimize dosing, and accelerate new drug development for IBD patients.