Biomarkers are key to understanding dementia risk, disease pathology, and mechanism of action for new therapeutics
Biomarkers are key to understanding dementia risk, disease pathology, and mechanism of action for new therapeutics
Perspectives from AAIC 2023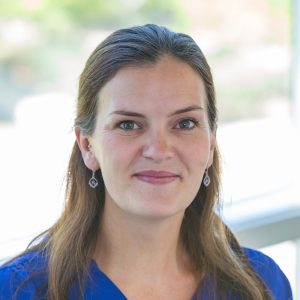 Clare Paterson, PhD
Director, Clinical Research and Development
SomaLogic, Inc.
The importance of protein biomarkers to understand dementia and discover solutions was very clear at this year's Alzheimer's Association International Conference (AAIC) in Amsterdam. From preclinical research to clinical implementation, the utility of biomarkers in Alzheimer's disease and related dementias was a unifying topic.
Multiple sessions, plenaries, and posters addressed the use of omics approaches to understand risk, heterogeneity of disease physiology, and mechanism of action for new therapeutics. Many centered on the use of proteomics as the primary approach or as a way to add deeper insight to other complementary approaches, such as genomics and methylomics.
Our team was honored to see so many researchers in academic research groups and pharma companies worldwide present findings from clinical trials and research studies spanning various dementia types and utilizing multiple neurological and peripheral matrices using data derived from our SomaScan® Platform. Their discoveries inspire us and are proof that forward momentum is being made – as a consequence of high-throughput proteomics – to better understand this group of diseases and identify meaningful therapuetics.
Tau and amyloid beta are incredibly promising. But there's more out there.
The conference came hot on the heels of the FDA's full approval for Biogen and Eisai's amyloid beta-directed antibody Leqembi (Lecanumab) and Medicare's announcement granting coverage of the drug in the U.S.
Then Eli Lilly added to the excitement by announcing at AAIC they had positive results from the Phase 3 TRAILBLAZER-ALZ 2 trial of Donanemab in people with early symptomatic Alzheimer's disease. Together, these announcements generated an overall sense that a new era of treatment options for patients has been ushered in.
But despite all the great news, Maria C. Carrillo, PhD, Chief Science Officer at the Alzheimer's Association, issued a challenge:
"We are not done." More targets need pursuit. This is where proteomics – especially high-plex protein profiling – gives researchers the ability to dig deep and wide.
Tau and amyloid beta are definitely crucial. But for researchers who want to find targets no one has ever considered before, we need to look beyond those two. And find proteins we never even knew were there. This is why we say our high-plex menu with reliably high reproducibility (from median coefficients of variation <5%) is critical.
A 25-protein, 5-year dementia risk model vs. traditional risk factors
Building on our poster last year, I was invited to present a talk on our recent findings on recalibrating our 20-year Midlife Dementia Risk model to predict 5-year risk for dementia diagnosis in adults aged 65 and older. We utilized plasma samples from the Atherosclerosis Risk in Communities (ARIC) cohort (visit 5; n = 4985; median age 75 years), which included a total of 391 total incident dementia diagnoses occurring within 5 years of blood draw.
Our findings demonstrated the ability of this protein signature to distinguish dementia risk across lifestages and across geographies, including in Japan where this test is currently available in healthcare settings. The data showed superiority in discrimination and dynamic range compared to genetic risk comparators.
Our team expanded our analysis with data obtained in collaboration with the National Institute for Aging (NIA) to demonstrate this proteomic model has extended utility in detecting neurodegenerative endpoints, including current and future state cognitive performance, as well as neuroimaging findings. This suggests that the utility of our proteomic test can span into multiple stages of the clinical trial pipeline, from enriching enrollment criteria to eliminating the need for additional invasive or expensive screening – ultimately leading to faster, more cost effective, and more productive studies.
Looking forward to 2024 and beyond
AAIC was a tremendously successful meeting. On a personal note, I was delighted to see that all the presenters in our Featured Research Session were women. Our industry is definitely changing in impactful ways. We can't wait to see even more biomarker-driven advancements at AAIC 2024 in Philadelphia.
Want to see how our SomaSignal® tests – including our dementia risk models – could make your research more efficient?
Our scientific team can help you find solutions for even the most difficult biomarker challenge.
More blogs
BlogProteomic profiling for discovery of biomarkers and mechanistic insights into acute myeloid leukemia (AML)
Acute myeloid leukemia (AML) is a cancer of the blood and bone marrow that is characterized by the abnormal proliferation of immature myeloid cells. It is the most common type of leukemia among the adult population that accounts for about 80% of all cases1. AML is a complex, genetically heterogeneous disease, which presents challenges for treatment. Although most patients respond to standard intensive chemotherapy, approximately two-thirds of the patients relapse within 18 months to 5 years of the initial treatment2. The bone marrow microenvironment is thought to play a significant role in mediating the persistence of malignant leukemic stem cells. However, the exact nature of bone marrow–leukemic cell interactions is not well understood.