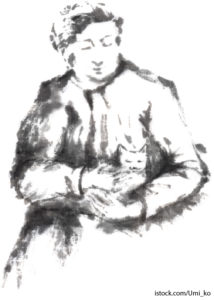 Poor guy. Since he was little, we knew he had the lungs of a whale. His cries reaffirmed this talent, echoing down the halls. He wants to go home, NOW! Yes, Noodle B. was not enjoying his medical visit. I also knew he would not be a happy camper if he needed another surgery. You see, our elderly furry head-of-the-household does not have the best post-operative experiences. However, I did not know, until recently, that he has that post-op issue in common with many humans.
As we get older, our ability to bounce back quickly from non-emergency surgeries diminishes (Gajdos et al., 2013). This can result in numerous complications and longer stays in the hospital rather than going to recover in the comfort of home. Although chronological age (not our true biological age) might help assess risk for surgery, is there something better?
A research group sought to answer that question by looking at protein changes and post-operative experiences (Fong et al., 2019). From blood samples of people from the Successful Aging after Elective Surgery (SAGES) study, the team looked for changes in protein levels using SomaLogic® technology. After surgeries, the team noted 43% of the proteins analyzed showed significant changes from the pre-operation levels, some of which were not found in other studies. From their analysis, changes in protein levels could potentially be explained by changes in levels of regulating proteins upstream in the cascade of signaling events, such as pro-inflammatory cytokines.
So, did they identify a new way to identify a patient needing more time in the hospital after a surgery or being discharged to a post-acute facility? From the small study, the team did find encouraging – but not definitive – results. One protein in particular, IL-6, showed that its levels prior to surgery could be a good indication that the patient will need more time in the hospital. After surgery, IL-6 and several other proteins appear to offer an early alarm of problems and the need to be discharged to a post-acute facility.
It is encouraging to think that the medical community is on the cusp of having new tests that may help surgeons and other medical care staff better stratify and plan human post-op care. Maybe someday it will even lead to help for Noodle B and his kin.
References
Fong, T. G., Chan, N. Y., Dillon, S. T., Zhou, W., Tripp, B., Ngo, L. H., . . . Libermann, T. A. (2019). Identification of Plasma Proteome Signatures Associated With Surgery Using SOMAscan. Ann Surg. doi:10.1097/SLA.0000000000003283
Gajdos, C., Kile, D., Hawn, M. T., Finlayson, E., Henderson, W. G., & Robinson, T. N. (2013). Advancing age and 30-day adverse outcomes after nonemergent general surgeries. J Am Geriatr Soc, 61(9), 1608-1614. doi:10.1111/jgs.12401