Life Sciences
discovery and research
Discovery, validation, and development in a
single proteomics platform
Welcome to SomaLogic, your high-content proteomics solutions provider.
As the industry leader, we are expanding our protein menu and developing pioneering methods to efficiently advance your research.
We serve scientists worldwide, in academic medical centers, pharma, biotech, and contract research organizations, collaborating at the intersections of basic research, preclinical and potential clinical applications in a wide range of therapeutic areas.
We are excited to collaborate with you to gain new biological insights into the human proteome and the complex molecular interactions of human health and disease.
SomaLogic has revolutionized affinity-based proteomics with the use of aptamers, short strands of modified DNA, through the development of our proprietary SOMAmer® (Slow Off-rate Modified Apatamer) protein capture reagents.
Choose from our portfolio of proteomic solutions utilizing SOMAmer reagents for protein detection and quantification in a range of complex biological samples. We offer a novel technology platform to profile proteins for disease-specific research and biological discovery. We excel in providing the leading proteomics platform that offers sensitivity, specificity, and reproducibility, with median coefficients of variation ~5%. Our assays utilize small sample volumes and deliver high-quality, actionable data to accelerate your research.
SomaScan® Assay
For biomarker discovery, assay size is critical.
What is the SomaScan® Assay?
The SomaScan Assay profiles 7,000 unique proteins from only 55 μL of plasma/serum. That's more than double the number of proteins of any other platform on the market.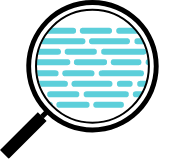 Key use cases
Biomarker discovery
Mechanism of action
Identification of adverse effects

Sample input requirements
55 μL of plasma/serum and suitable for other sample types, such as urine and CSF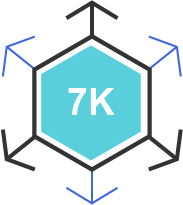 Menu size
7,000 proteins and counting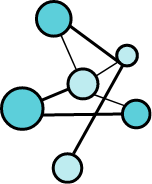 Assay output
Protein expression data representing specific proteins found in your sample bound by SOMAmer reagents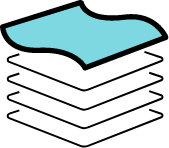 Validation
More than 700 peer-reviewed publications demonstrating the power of the SomaScan Platform in advancing proteomics have been published with >550,000 samples tested since 2010. SomaScan Assay disease-specific and customized panels are also available.
SomaSignal® Tests
For clinical trial monitoring, actionable reporting is key.
What are SomaSignal® Tests?
SomaSignal® Tests deliver clinically relevant information about patient health and risk status derived by comparing clinical data and SomaScan data.

Key use cases
Easy sampling facilitates longitudinal studies
Risk assessment score for specific pathologies
Real-time readout of physical state and trajectory

Sample input requirements
55 μL of plasma/serum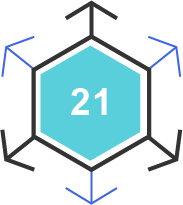 Menu size
21 validated tests and growing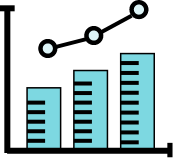 Assay output
Risk profile of disease likelihood, probability, and/or severity of phenotype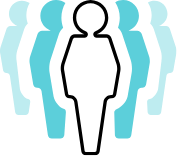 Validation
SomaSignal Tests use proteomic expression algorithms validated with patient cohorts in clinical studies.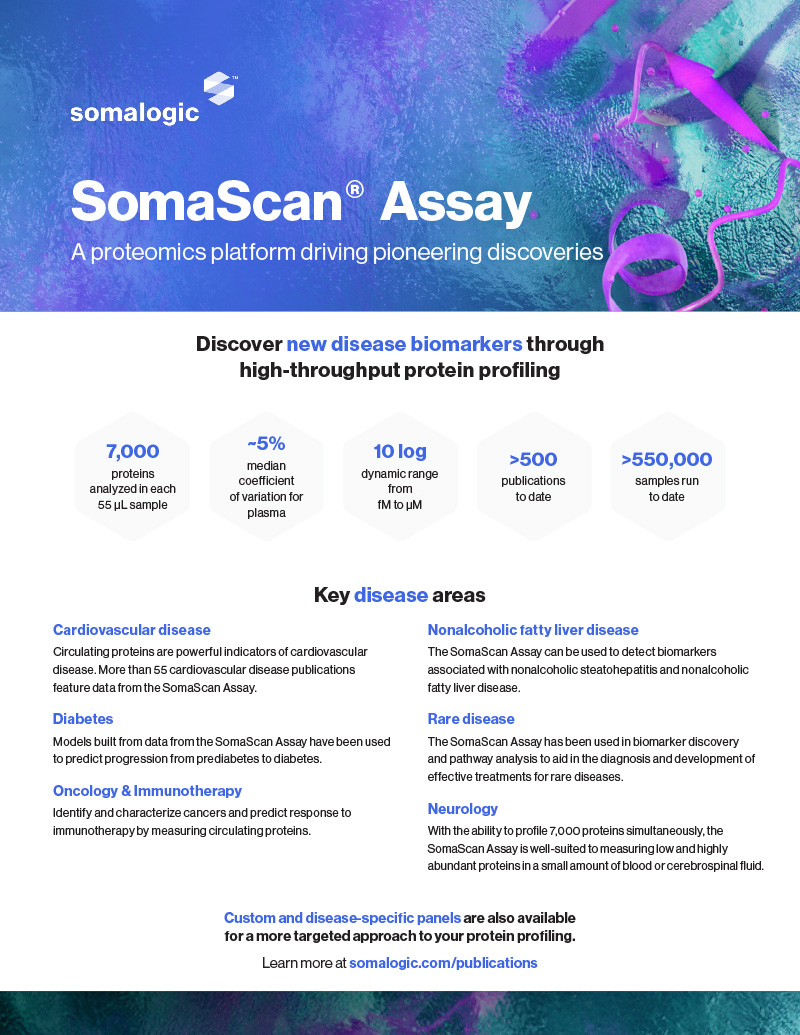 Download the SomaScan Assay Services brochure
View highlights of the SomaScan Assay for protein profiling and biomarker discovery in a variety of diseases including oncology, neurology and cardiovascular disease.
SomaScan® Assay services
Measure over 7,000 proteins in a variety of samples including plasma, serum, CSF and others.
SomaScan® Panels
Study associated protein families in a range of disease states including curated panels for neurobiology, oncology, cardiovascular disease, and more. Or create your own customized panels.
SomaSignal® Tests
Choose from 21 specific tests from our growing menu.
SomaLogic
Authorized Sites
Bring the SomaScan® 7,000-protein assay to your own lab with our scientific support.
Gain new proteomic insights with data from SomaScan Assay services and best-in-class AI and scientific support from your SomaLogic team.
View citations of over 700 publications using the SomaScan® Platform