A proteomics platform driving pioneering discoveries
Turning raw data into meaningful insight is a key step to finding new treatments and providing personalized therapy—and we do just that.
The proteomics revolution is now, and SomaLogic is here to partner with you in your discoveries.
The field of proteomics is rapidly expanding as technology evolves to analyze protein dynamics to add to the knowledge of DNA and RNA and provide new biological insights and discoveries.
SomaLogic provides the SomaScan® Assay, a fee-for-service proteomic technology platform, performed in a CLIA-certified lab. Our team of experts manage all the steps from sample intake, processing to data delivery — collaborating to achieve new biological insights and discover biomarkers and signatures from your precious samples. Whether you're conducting a small academic study or a large clinical trial, we can handle your samples of various types including plasma, serum, CSF, urine, and more!
Discover new data from your clinical samples with powerful protein profiling
7,000
Proteins analyzed in each sample
10 log
Dynamic range from fM to µM
What you can achieve with the SomaScan® Assay services
For pharmaceutical R&D
Target identification
Target validation
Mechanism of action
PK/PD
Enrichment of clinical trials
Stratification of clinical trials
For academic R&D
Disease biology modeling
Disease sub-phenotyping
Physiology investigation
Pathway regulation investigation
Rapid translation from bench to bedside
Dovetailing with clinical care
Realize every sample's full potential
Detect proteins across every major biological pathway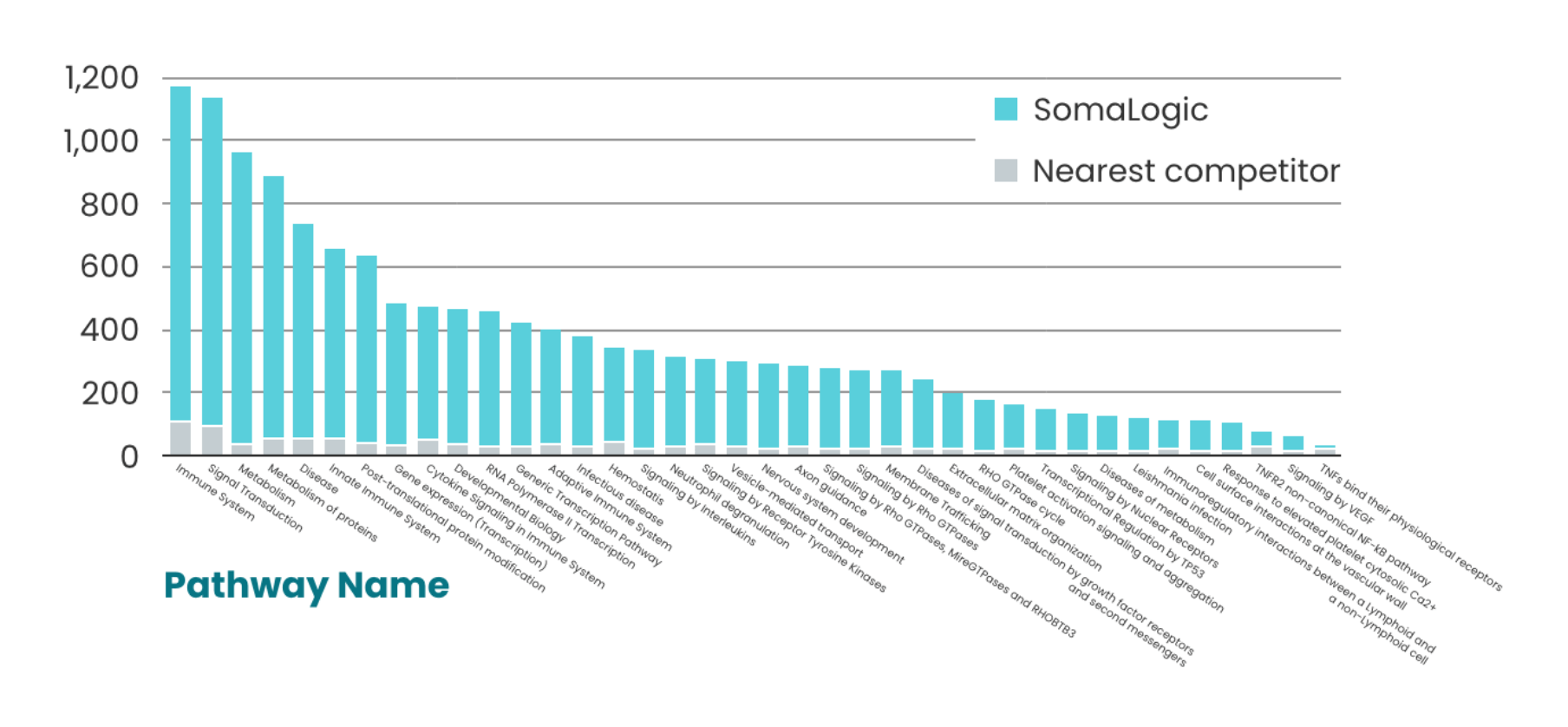 Why partner with SomaLogic?
Fast, easy setup: no custom or setup fees
You maintain full data ownership
The largest knowledge base of clinical + proteomic data
High-throughput CLIA lab
Expert consultations on study design, stats, and publishing/presenting