Unlocking actionable information for better patient care by measuring proteins in blood
SomaSignal™ tests give providers and patients access to the knowledge and insights they need to inform treatment plans and manage health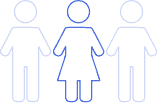 Uncover previously hidden health risks to improve treatment decisions
IDENTIFY DISEASE
PROGNOSIS

Learn more about disease severity and trajectory to enhance disease management
UNDERSTAND
DISEASE DRIVERS

Gain insights into factors that may be contributing to higher risk
With just a single sample of blood, the SomaSignal tests allow healthcare providers to quickly assess disease risk and prognosis for individual patients…
…allowing them both to understand real-time health status and to improve collaboration around health interventions and treatments.
New tests are continuously being developed across a spectrum of the most common diseases including cardiovascular disease, diabetes and cancer
SomaSignal tests are currently available to ordering physicians in select clinical practices*. We are working closely with physicians to maximize the benefit of these tests to their patients.
* SomaLogic, Inc. developed the SomaSignal tests and determined their performance characteristics. The tests have neither been cleared nor approved by the US Food and Drug Administration.
Explore more ways to achieve personalized healthcare with SomaSignal tests