Repurpose existing drugs by matching them with drivers of COVID-19 progression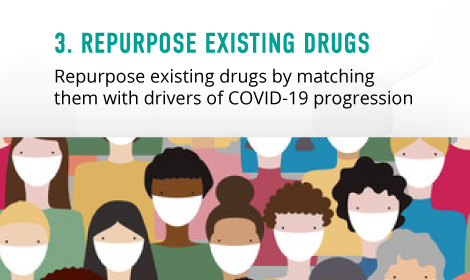 Discover protein patterns associated with infection
Identify dominant biological systems driving adverse effects 
Match with mechanisms of existing drugs
Accelerate availability of treatments known to be safe
the SomaScan® Assay has been used to identify diagnostic biomarkers and point towards opportunities for drug repurposing
Identifying a novel diagnostic biomarker for leukemia/lymphoma
Adult T-cell leukemia/lymphoma (ATL) is a rare, aggressive cancer that occurs in people infected with human T-lymphotropic virus type 1 (HTLV-1). Only about five percent of those with HTLV-1 develop ATL, but there is currently no way to distinguish those who will progress to disease. In this study, scientists in Japan used the SomaScan Assay to measure the levels of 1305 proteins in plasma taken from 40 people with asymptomatic HTLV-1, 40 people with ATL and five people in remission. They identified 333 proteins that were significantly different between those with and without ATL and confirmed by ELISA that one protein, soluble tumor necrosis factor 2 (sTNFR2) was ten times higher in those with ATL than in HTLV-1 carriers and those in remission. Additional studies in larger patient groups is needed, but sTNFR2 could be a candidate biomarker for diagnosing ATL, assessing disease risk and monitoring treatment efficacy.
Recognizing potential treatment targets in Sjogren's syndrome
Primary Sjögren's syndrome (pSS) is a disease in which the immune system attacks the salivary glands. In addition to dry mouth and dry eyes, one of the most common symptoms of pSS is debilitating fatigue. To gain insight into the causes of fatigue in pSS sufferers, researchers at Erasmus University Medical Center in the Netherlands used the SomaScan Assay to compare the levels of 1300 proteins in blood samples taken from 63 pSS patients and 20 healthy controls. A total of 104 proteins were significantly different between the two groups, and 16 proteins were significantly different between fatigued and non-fatigued patients. When possible, the proteins identified by SomaScan were validated using conventional antibody-based techniques, which showed good correlations and reliability. Fatigued pSS patients showed increased levels of several proteins that promote inflammation as well as various proteins that function in the brain. Although proinflammatory processes have been suspected to play a role in fatigue, this is the first evidence of a link in pSS. The 'fatigue signature' proteins need to be validated in larger cohorts but could be very useful for identifying therapeutic targets and developing potential treatments for those with pSS.
Identifying specific protein targets of the cardiovascular disease drug Apabetalone
Bromodomain and Extra-Terminal domain (BET) proteins, which help turn specific genes on and off, are important drug targets for a wide range of conditions including cancer, neurological disorders and obesity. Apabetalone, a BET inhibitor under development to treat cardiovascular disease, can reduce renal inflammation in patients with severely impaired kidney function. To better understand the effects of apabetalone, a team led by investigators at Resverlogix Corp. compared the levels of circulating proteins in healthy patients and those with chronic kidney disease (CKD). Blood samples from eight people with CKD and eight matched controls were collected before and after taking apabetalone and analyzed using the SomaScan Assay. The levels of 169 proteins differed significantly in CKD patients compared to controls. Many of the identified proteins are well-established markers of kidney function but some are entirely new. Within 12 hours, a single dose of apabetalone significantly lowered the levels of proteins that contribute to inflammation, atherosclerosis and fibrosis. These results suggest that apabetalone may be useful for treating not just CKD, but multiple diseases in which the BET proteins play a role.
Discovering potential benefits of immune-related therapies for Down syndrome
In the largest and most comprehensive study of its kind to date, investigators at the Crnic Institute for Down Syndrome, the Sie Center for Down Syndrome, the University of Colorado, and SomaLogic measured the levels of over 3500 proteins in the blood of 165 Down syndrome patients and compared them to 98 non-Down syndrome controls. They identified 299 proteins that differed significantly between the two groups. Surprisingly, most of these proteins are not encoded by genes located on chromosome 21 but are associated with immune system control. Down syndrome individuals appear to have something that resembles an autoinflammatory condition, with elevated levels of proteins that promote inflammation but deficiencies in proteins that help eliminate foreign pathogens. The findings provide a new framework for understanding the physiological mechanisms that drive the altered disease susceptibilities seen in individuals with Down syndrome and suggest that individuals with Down syndrome could benefit from therapies that decrease or modulate immune responses.