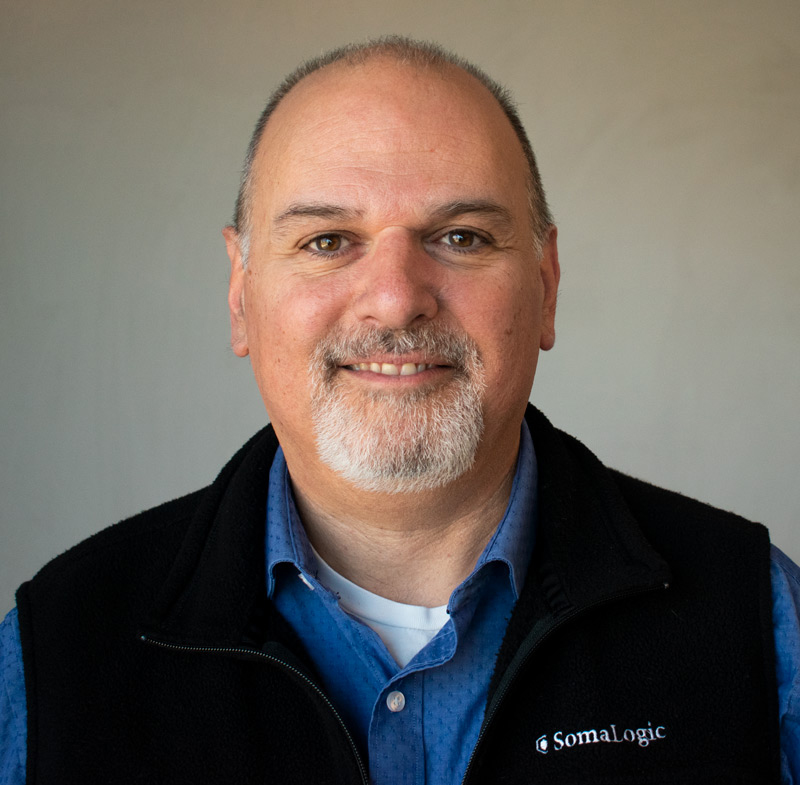 VP of Life Sciences Research | Beach bum at heart
"Ask me how to get started"
Evan King will set a foundation for your whole experience with the Life Sciences Research team. From first contact through planning your project to discussing terms, he's "the conductor"—but more like an electricity conductor than a train conductor, Evan is an empathetic listener with contagious enthusiasm.
As a senior in a Los Angeles high school, Evan fell in love with transcription and translation. He smiles as he remembers the physiology teacher who inspired him, C.A. Morris. UC Santa Barbara was the obvious college choice—close enough to do laundry at home, but too far for parent drop-ins.
He majored in Cell Physiology and got his first job as a chemist at the Mentor Corporation, running quality control on incoming raw materials for silicone implantable devices (ask him about custom orders for silicone implants!).
When Evan was hired on at SomaLogic® in 2010, he was working as COO of a small company in Denver. What drew him to SomaLogic was the technology. "The [SomaScan®] Platform and what it could achieve in terms of really changing healthcare was really interesting to me," said Evan.
At about the same time, SomaLogic started selling SomaScan as a biomarker discovery assay and the SOMAmer® reagents that drive the platform. While this model was successful financially, it didn't support SomaLogic's driving vision of developing a universal diagnostic platform. "It turns out that we need to share clinical data as well as proteomic data to realize this vision," said Evan.
The SomaScan Discovery Alliance was designed to foster just such a mutually beneficial relationship between SomaLogic and academic and pharmaceutical researchers interested in using the SomaScan platform. If you want to join or are a part of the SomaScan Discovery Alliance, you'll likely encounter Evan. He'll walk you through the nature of the association – in short, a two-way data and IP rights sharing agreement (if you can't share data, SomaScan Discovery Services are now also available) – or ponder with you the importance of every single discovery study.
If the SomaScan Discovery Alliance is a good fit for your research, Evan will connect you with clinical experts who can help you design your study and business development experts who will further outline the terms. Then, a project manager will help guide you through sample and data submission and, later, data analysis.
At that point, Evan hopes you'll connect with him again. "I want to hear from every customer," he said, "if we delivered on the value [you] expected, or we failed, I want to know it." The SomaScan Discovery Alliance is critically important to everyone at SomaLogic, because, as Evan says, "this platform is going to change the world."L